This is a review of popular art markers that are commonly available at your local art store, craft store or online through various retailers such as Blick Art Materials
.  As a digital illustrator, I use markers mainly as a sketch and design tool and not for detail work or rendering. Because of that I only use gray/gray tone markers, which will be the only "color" reviewed here.  Scroll down to see my personal choice for best marker and a buying guide.
COPIC
COPIC
is a popular, dual-ended marker that features a replacable fine point nib and a flat wedge nib. The body is a rounded square construction. They are available in a wide range of colors and tones, and are refillable.
Pros: Beautiful, clean tone. Pigment is rich leaving really nice colors and tones. Marker dries quickly with little to no bleed. Wedge nib is extremely stiff and durable.
Cons: Right away I noticed that the fine point nib has already started to fray. The line is sharp, but not very thin. These tend to be the most expensive markers on the market so cost can be an issue, despite being refillable.
PRISMACOLOR
Prismacolor's "Premier" line is double sided and features a broad wedge nib and fine point nib. The body is a fat, round construction.
Pros: Beautiful, clean tone. Pigment is rich leaving really nice colors and tones. Marker dries quickly with little to no bleed. Wedge nib is extremely stiff and durable.
Cons: They tend to not hold very much fluid so they do not last very long, which is unfortunate because they are very fun to draw and sketch with. Because they dry up relativley quickly and can not be refilled they will need to be replaced more often, so cost of replacement may be an issue.
CHARTPAK
Chartpak
makes a single sided art marker that features a uniquely shaped chisel head. The construction is a fat, round plastic body.
Pros: The nib is incredibly durable and versatile. The wedge is very large, the largest of this group, and produces a nice, fat mark. The chisel of the wedge is not only sharp, but flexible and can easily produce crisp, lines of various widths.  I also enjoy the fat, round body. This is the fattest and heaviest marker of the group and feels great to hold.  Since I draw with a lot of pressure and tend to squeeze my drawing tool, this is a very comfortable marker for me and my sketching style.
This marker also holds an incredible amount of fluid and lasts a very long time. They outlast every marker I use. They also tend to cost less than the more recognizable brands such as Copic and Prismacolor so these markers are definitelty a great value.
Cons: The major drawback for Chartpak's is the bleed. Because they have so much fluid, the mark tends to bleed quite a bit. Although the bleed can be minimized with practice and a softer touch, it can be a nuisance if you're trying to do detail work.
TRIA
Tria
 is a unique, double ended marker that actually features 3 distinct nibs, a flat wedge, fine point and a stiff brush point. Fat, round body construction.  Comes in a variety of colors and tones and is refillable.
Pros: Obviously the 3 nibs is the unique feature of TRIA's. The nibs themselves are very durable and stiff. The mark is sharp and clean with nice pigmentation and minimal bleed. Their overall versatility is the biggest plus for this brand.
Cons: From my experience they dry up very quickly. Even though it may be refillable, it's a major drawback for me since they can be expensive and I often sketch on the road and dont want to carry additional bulk of a refill container. Individual markers are also relatively expensive so initial cost can be an issue.  Because this brand is not that popular or recognized, it can also be quite difficult to find at stores or online retailers.
** MY BEST ART MARKER PICS **
Best Overall: Prismacolor
If I had to choose only one marker brand, I would go with Prismacolor. The mark and pigment is very good. They last relatively long and are widely availalbe at most retailers.  Using them for years, they just 'feel right' and with practice, the wedge nib alone can deliver an exceptional variety of line and tone.
Best Value: Chartpak
For economy and cost savings, I would choose Chartpak. They last an unusually  long time for an art marker, and they tend to be less expensive than other brands which makes them a great value. Even though there is only one nib, the wedge is versatile enough for most sketching tasks.  This is also my favorite maker body, because it is really fat and heavy, which I really enjoy working with.
Best Quality of Mark: COPIC
For tighter, detail work, I would go with COPIC. The pigment is the best of the group and the marks dry quickly leaving a clean, consistant mark. This is probably why Copics are so popular among comic/manga artists who work traditionally.
WHERE TO BUY
If you're interested in trying some of these markers, or need to replace your current ones, I've included links below to various online retailers:
Prismacolor @ Amazon
Set of 12, Cool Greys

Set of 24, Multi-colored
Set of 48, Mulit-colored
Prismacolor @ Blick.com
Primary/Secondary Colors, Set of 12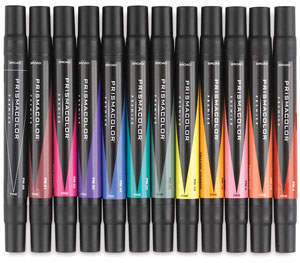 COPIC @ Amazon
Set of 6 "Sketching Grays"

Set of 12, Mulit-colors

Set of 36, Multi-colors
COPIC @ Blick.com
Chartpak @ Amazon
Set of 25, Warm & Cool Grays

Set of 25, Warm & Cool Grays
Chartpak @ Blick.com
Tria @ Amazon
Set of 12 Gray Tones
(Visited 65,592 times, 7 visits today)